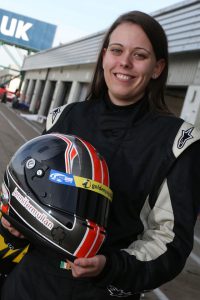 A native of Newcastle, Co.Down, Jennifer has had a keen motorsport interest from a very young age. Feeding her motorsport passion as a race and rally marshal, Jennifer was eventually given the opportunity to take to the track herself thanks to an initiative from David Sheane of Sheane Cars to encourage people to go racing.
Making her debut at her home circuit, Kirkistown, in 2007, Jennifer was instantly bitten by the bug and took part in a few more races that season in Formula Vee.
Since starting in Formula Vee, Jennifer has gone on to race a wide and varied range of different race cars when budget has permitted. From Global GT Lights and Strykers to a Rallycross Supercar, Jennifer was presented with a new challenge in 2012 when she became the first lady in the Formula Sheane history books to race in their class.
Starting at her home circuit Bishopscourt, which was a welcome return to circuit racing after a lengthy absence, Jennifer had an enjoyable first weekend racing in Formula Sheane despite learning just how tricky the car was to tame. Shortly after this event, Jennifer was invitied to become the first ever lady to take part at the Bavaria Formula 1 City Racing event which was being held around the streets of Dublin City Centre on the June bank holiday weekend. Celebrating a new partnership with goldenpages.ie, Jennifer was now in a position to compete in the remainder of the 2012 Formula Sheane Championship with the highlight event being the televised race for the Leinster Trophy at Mondello Park's International Circuit in September.
Having finished sixth in the Formula Sheane Scholarship Championship in her debut season. Jennifer went on to contest the full 2013 Championship taking second place in the Formula Sheane Scholarship Championship this time round with a victory and six third place finishes in her class.
In 2014 Jennifer made the move to Formula Ford 1600, contesting the Pre-87 class of the Champion of Mondello Series. Jennifer went on to win the class while also taking third place in the Pre-87 class of the All Ireland Championship and Northern Ireland Championship.
For 2015 Jennifer returns to Formula Ford 1600 to contest the full All Ireland Championship in the Pre-87 class in her Reynard FF84.